The Singer 48K machine was manufactured only at Singer's Kilbowie factory between 1900 and 1913 and according to the company records at least 500,000 machines of this type were made. Priced at £4 12s 6d the Singer 48K was designed to compete with the German High Arm Family machines which had for many years dominated the cheaper end of the British market.

Available as a Hand or Treadle machine, it had a self-threading "bullet" type shuttle, self-setting needle and an automatic bobbin winder. It could be purchased with or without a Bentwood case. All Singer 48 K's have the Peacock Tail decals which generally seem to survive remarkably well. However there are a couple of variants to the centre bed decal, on some examples it is replaced with an eight pointed star and on others it is omitted altogether!
The Singer company did not name the decal patterns it used on its machines and over the years collectors have given them various descriptive names so for example this particular decal pattern is also known as Orange Slice or more recently Ottoman Carnation. We prefer to use the name Peacock Tails as when we started collecting that was how it was described.

Some sources claim the Type 48K is rare and whilst this maybe true in America, it can be found without too much difficulty in Britain. We have three examples and have seen numerous others almost on a weekly basis.
A further myth is that it was produced mainly for export to Third World Countries, - as far as we can ascertain there is no evidence to support this. No doubt some were exported but it is more than likely the majority were sold in Great Britain, infact the advertising material that has come to light so far relates to 48K machines being sold in this country.
In recent times the 48K has become collectable particularly in North America, and some 48K machines have been shipped over from Great Britain however the bulk of machines found in the United States and Canada are more likely to have arrived with emigrants from Britain.

DATING: The date of commissioning for Singer sewing machines is available online go to Singer Machine Serial Numbers.

The Singer 48K has the Serial Number located on the bed of the machine at the back of the pillar.
---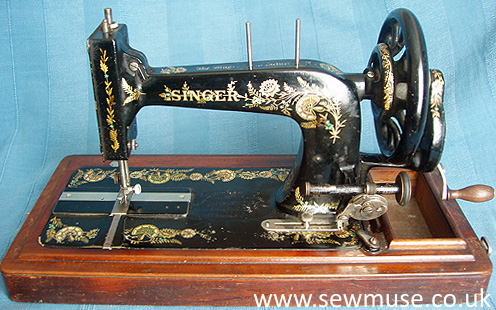 Type 48 K Serial No. P 391338.

One of a batch of 49,500 commissioned in 1900 and made at Singers Kilbowie factory. This machine shows signs of much use, the Peacock Tail decals are worn along the front edge but the Centre decal has been worn away, not through use, but by a retailers decal, the vague impression of which can be seen in certain lights. The metal Singer badge is missing as is the accessory compartment lid.
---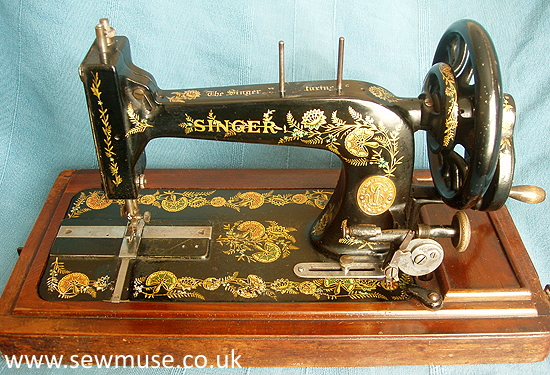 Type 48 K Serial No. R 681781.

Commissioned in 1902 this is one of a batch of 20,000 made in that year. The Peacock Tail decals are in very good condition with just a little rubbing to the front edge. Note the black japanned balance wheel while the slide-plates are Nickel plated. The tension adjustment is by way of a screw under the arm at the back of the needle head.

This machine has a bentwood case with Singer Logo and there is an accessory compartment with sliding lid in the base. The 48 K could be used in combination with a treadle stand and a slot is provided in the base for the treadle belt to pass through.