Inevitably when collecting sewing machines, one comes across various accessories which go with the machines. Shown below are some of the Singer items we have come found.
---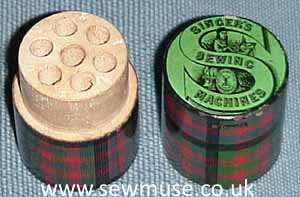 Singer Needle Case

Although we have several Singer accessory boxes this is the only needle case we have come across. The Singer emblem on the top appears to be an early version and the tartan pattern round the side of the case is labeled as McDonald, presumably this formed one of a series of such needle cases.
---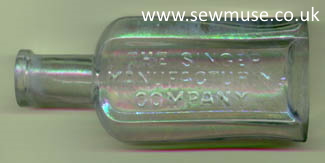 Singer Oil Bottle

On one side this oil bottle has The Singer Manufacturing Company and on the other Extra Quality Machine Oil.
It would originally have had a cork stopper.
---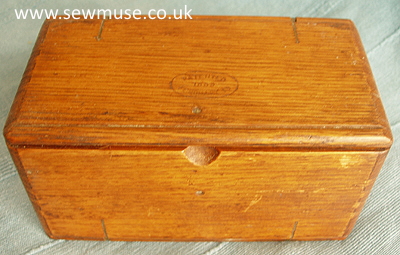 Singer Puzzle Box

Whilst attachments for European made Singers came in cardboard boxes or tins, in America attachments could be supplied in a wooden fold out box which was patented February 19 1889. Usually associated with treadle machines the box was well made with dove-tailed joints and brass hinges.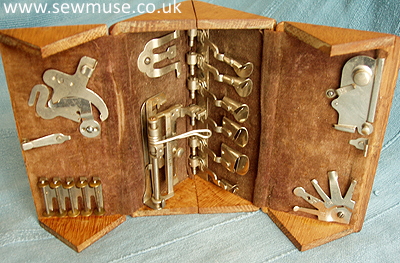 Singer Puzzle Box Interior

The box folds out to reveal the attachments which are individually numbered. The contents of each box varied depending on the Model for which it was issued. This box would have been for Singer Models 27 and 28. This example is shown half open.
---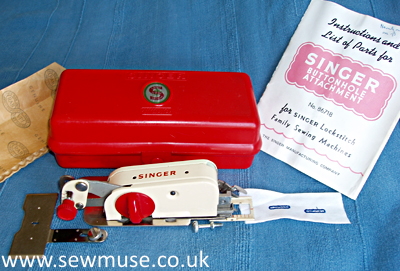 Singer Buttonhole Attachment

This interesting accessory was designed to make buttonholes. The instruction book appears to have a date code for December 1958 and refers to Singer Models 15, 99, 128, 185, 191, 221 & 222. This example came complete even with the original anti - corrosion paper and cardboard filler.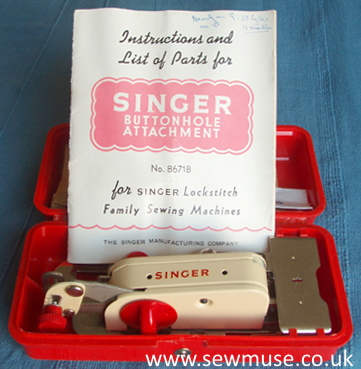 Singer Buttonhole Interior

The box is cleverly design so the Buttonholer and it's fittings are securely held in place.
---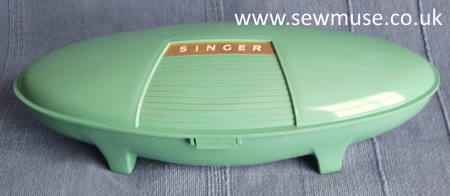 Singer Buttonholer

Another Singer Buttonholer, the instruction book has a copyright date of 1960. This buttonholer was designed for Family machines and patented in nine countries. It made straight or key shaped button holes.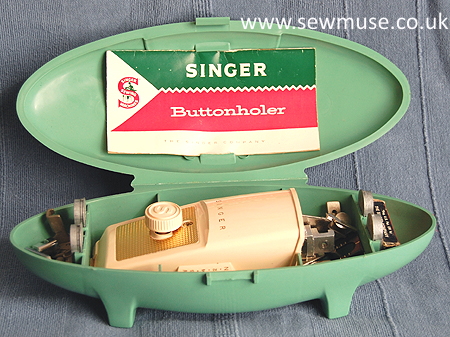 Singer Buttonhole Interior

The unusual shell shaped container holds all the parts in place.