The Singer Automatic Model 24 was patented in April 1886 and it is thought to have been introduced to compete with the Willcox & Gibbs chain stitch machine which had been adapted to an array of industrial uses. Early versions of the Model 24 have a nickel plated cloth plate stamped with the patent date. It was produced with both manual and automatic tension.

As well as being adapted for use for a large number of industrial applications the Model 24 was also sold as a domestic machine operated either by hand, treadle or electricity. However contary to some reports I can find no evidence it was marketed as a toy. Singer's advertising simply states that "a child can use it" and "for young or old", this is simply a reference to how simple the machine was to use.

Follow this link to a FREE copy of the Singer 24 Manual Note - this is primarily for Industrial Machines but it may help!

DATING: The date of commissioning for Singer sewing machines is available online go to Singer Machine Serial Numbers.

On these models the Serial Number is located at the back of the machine on the pillar
---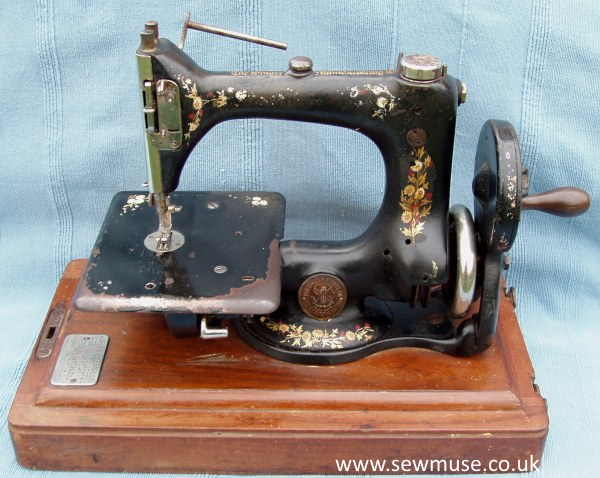 Model 24 - 61 Serial No. G 5912964

This is a domestic version of the Model 24 and was one of a batch of 2000 commissioned on 3rd January 1918 this example has automatic tension with the spool pin located on the back upper left.

There is wear to the cloth plate and the arm but the decal pattern of cornflowers with red berries can still be seen on the base and the pillar.