The Singer Model 201 was introduced in 1932 and remained in production until 1961 (although there was a break in production between Autumn 1941 and Spring 1946). The last batch of 10,000 machines was commissioned in November 1961.

The machine is considered to be the finest full sized sewing machine Singer ever produced. Operated either by hand, treadle or electricity it was sold as for domestic use as well as for tailors and seamstresses.

The mechanism on these machines is rotary with the hook being gear driven which allows it to operate at high speed. The machine featured same stitch length reverse and feed dogs that could be lowered for darning or embroidery work.

Apart from cosmetic changes the Singer Model 201 remained largely unchanged throughout its long production run. The most significant change was in the 1950's when the company produced 201 machines with new shaped light weight aluminium bodies.

The Model 201 uses a 15 x 1 needle and the same bobbin as the Models 66 and 99.

Follow this link to a FREE copy of the Singer 201 Manual

DATING: The date of commissioning for Singer sewing machines is available online go to Singer Machine Serial Numbers.

On these models the Serial Number is located on the bed of the machine in front of the pillar
---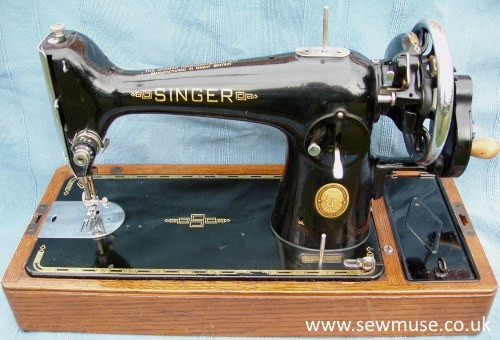 Model 201 K2 Serial No. EG91094

This is a Model 201 K2 and was one of a batch of 50000 commissioned in 1951 and made at Kilbowie. The case has snake skin effect covering and a removable front so the machine slides in sidewards.

I am aware some sites refer to the hand version of the 201 as the K4. However this machine came with original manual which clearly states it is a 201 K2 so I'm sticking with that!