All material copyright David G. Best 2002 - 2010 All Rights Reserved.

Made at the Wellington Works and specifically designed for Tailoring, it was exhibited at the Vienna International Inventions Exhibition in 1873.

The Practical Tailor had a 13½ inch arm and Top and Bottom feeds. It was claimed that one new feature of the machine was that it had three rotating shafts extending from front to rear which were yoked together to imparted direct, positive motion to the needle, shuttle and feed. The shafts were yoked together and driven by means of one link and three disks, held in position by projecting pins and corresponding steps to receive them.

In 1875 the Practical Tailor cost £12 12s by 1884 this was £12.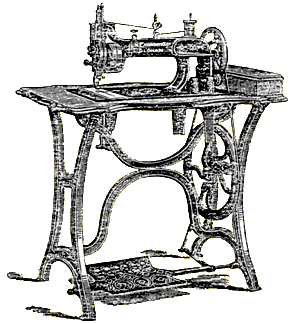 INDEX of BRADBURY SEWING MACHINES
CLICK on a CAPTION