All material copyright David G. Best 2002 - 2008 and David Best 2009 All Rights Reserved.

1852. The Company was formed by Thomas Sugden, his brother Frederick and George Bradbury, operating from Primrose Bank, Oldham. Their first machine - the "Lancashire" was a shuttle machine which sold for £30. It was produced for Charles Judkins who was trading as the Lancashire Sewing Machine Co. and it was exhibited at Irish Industrial Exhibition in May 1853. Production of this machine ceased soon after and it was replaced with a circular needle machine production of which continued until at least 1884.

1853 It is believed 13 Lancashire machines were purchased by George and Henry Holloway who had a dressmaking business in Stroud.

1854 The firm was known as Sugdens', Bradbury & Firth and production had moved to the Rhodes Bank Foundary, Oldham. <!!15 July-->
The firm were advertising they were licenced makers & vendors of C.T. Judkins Patent Stitching Machines. <!!4 Dec-->
1855 In August the partnership was dissolved <!!13 Aug -->& a the equipment sold. <!! 30/31 Aug-->

1856 The company was trading as Bradbury & Firth <!!Dec-->

1858 The firm had become Bradbury & Co.

1859 The company's patent adjustable binding guide was exhibited at the Society of Arts 11th Annual Exhibition of Inventions.

1861. The Company employed 23 workers. The price of a sewing machine by this date was only £7.
1862. October The partnership between G. Bradbury & G. Ferriman was dissolved. It appears G. Bradbury aquired the assets & continued trading.
Two patents for folding attachments had been granted and an order for 500 machines. Bradbury's "Empire" Sewing Machine was exhibited at the Great Exhibition. It was invented by Joseph Mc Crossan of Glasgow and was unusual as it used no cams to produce the different movements.

1863. The Company was producing approximately 550 machines per annum.

1864 January. T. Chadwick joined the Company.
Sewing machines available were: Lancashire, Thomas, & Howe types.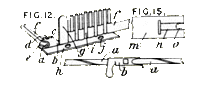 Bradbury's Patent Binder c1864
1866.
Building of Wellington Works commenced with frontages to Wellington Street,
Park Road and Brunswick Street. The Northern side was bounded by a railway.
The Factory appears to be two storey on early illustrations.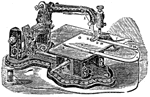 Bradbury's Belgravia
1867. The Belgravia sewing machine was patented and introduced. 9th July is the earliest press mention of this machine we have. Production of the Belgravia continued until at least 1884. It could produce 6 types of stitches.
It received the Silver medals (1st) at Manchester and Liverpool.

1868 February. Production of the Belgravia was doubled to keep pace with demand.
A Depot was opened at 5 King Street Manchester.
Belgravia awarded Silver medals at Southport and Middleton, 1st at Manchester, London & Rochdale.

1869. Belgravia awarded First Prize at Accrington and Middleton.

1870. Belgravia awarded first prize at Accrington.

1871. Approximately 25000 machines produced per annum by 244 workers.
Machines available: Belgravia, Lancashire, Universal feed No's 1 and 2 (A1 Repairer),
Thomas Machine and Howe types No's 1 A, 2 B and 3 C.
Paris and Bruxelles (Brussels) Depots listed.

1872. Lyons and Paris Exhibitions gold, silver and first prize for the Belgravia.

1873. Vienna Exhibition, Belgravia received the highest award and first for Valuable Inventions.

1874 5th May. The firm became a Limited Company formed with a capital of £150,000 in £10 shares. Officially known as Bradbury & Company Ltd the joint Managing Directors were T. Chadwick and G. Bradbury.
Manchester Exhibition - Gold Medal awarded.


Early Bradbury Trade Mark
1875 24th June. "Dukes Head" Trade Mark used for first time.
The range of machines was as in 1871 plus the Letter "S" Family and Medium machines
and the Practical Tailor.
The Wellington Works had a floor area totalling approximately 115,000 Sq Ft and had offices on
the "other side of the street".
The Company employed 500 workers.
Depots were listed as Manchester, Liverpool, Birkenhead, London and Paris.
Paris and Manchester Exhibitions - Gold Medals.

1876 8th November. The Trade Mark was officially registered.

1877. 17 Depots listed including 44 Yorkshire Street Oldham. In September Bradburys Brussels Agent was made Bankrupt.
Machines available in this year were: Belgravia, Lancashire, Universal feed No's 1 and 2 (A1 Repairer), Thomas Machine, Howe types No's 1 A, 2 B and 3 C, Letter "S" Family and Medium machines, Practical Tailor, Beatrice, W & G type, Wax Thread, Plain Spool and the Wellington New lock stitch sewing machine was also in production.

1879. Rotary awarded Gold Medal at the Paris Exhibition.