All material copyright David G. Best 2002 - 2008 and David Best 2009 All Rights Reserved.


Wellington Plaiter
1880 1st January. The Rotary machine with top tension was available as was the Wellington Plaiter patented the previous year and which became available between 1st May and 1st November. Other machines available included: The Wellington, Letter "S" Family and Medium machines, Belgravia, Lancashire, Practical Tailor, Howe types, Thomas machine and A1 Repairer.
Following an apparent dispute with other Directors George Bradbury sold his shares in
Bradbury & Co. Ltd and severed all connections with the firm.
Oldham Depot had moved to 56 Yorkshire Street .

1881. The Rotary was awarded Gold medals at the Adalaide, Perth and Melbourne Exhibitions.

1882 March. Production was still around 24000 machines per annum with 480 workers.
The Rotary gained 10 First Prizes at local exhibitions.
Bassinette Model No. 5


1883 January. Rotary awarded a Gold Medal at Huddersfield.
A range of Bassinettes was introduced.

1884 26th January. Machines available: Rotary No's 1, 2, and 4, the Wellington, the Magic,
Letter "S" Family and Medium, Belgravia No's 1, 2 and 3, Lancashire, Howe No's 1, 2 & 3,
Practical Tailor, Thomas No's 2 and 3, A1 Repairing, a Willcox & Gibbs type and the Wellington Kilter.

1884 8th March. George Francis Bradbury died after a sudden illness aged 57 (born 26th February 1827) in Christchurch, New Zealand where he ended his days working as a mechanic.
Information courtesy of The Saddleworth Historical Society/Julian Hunt
1885. Inventions Exhibition - Gold Medal awarded for the Rotary.
By this date the Oldham Depot was at 28 Market Place

1886. July No. 5 Vibrating Shuttle machine displayed at the Edinburgh Exhibition.
Liverpool - Highest and only Award to the Rotary.
T. Chadwick dies aged 56.

1887. Production 26,000 - 30,000 machines per annum. 12 types of sewing machine were
available including: Rotary, B2, B4, A1 Repairing, and the Wellington
600 factory staff were employed with a further 800 at 60 depots.
Engineers tools and bassinettes (10 types) were being produced for which premises on opposite side of street were secured.

1888 1st June. The Company had, by this date, 12 Prize Medals and 6 Certificates of Merit for the Rotary.
T. Sugden dies aged 72.

1890 1st May. Edinburgh Exhibition of Industy Science & Art opened - Gold Medal awarded.

1895 It is believed that the company were producing cycles by this date.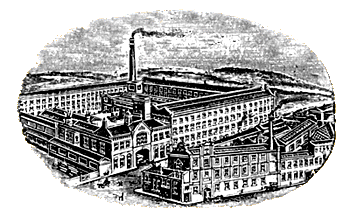 Wellington Works c 1897
1897. The factory was extended across the road with frontages to Longley Street & Ironmonger Lane, mainly a three story building. The Wellington Works now totalled some 160,000 Sq Ft
The Company had a stand at the National Cycle Show at Crystal Palace and was producing ladies and gents cycles, tandems, road and path racers.
Bradbury's were advertising that they manufactured motor cars.

1898. August Bradbury completed the first batch of their new vibrating shuttle machine,
which was called the "Soeze". Priced to retail at £5 17s 6d the Soeze was designed to
compete with cheap German imports. It had top tension, a bentwood cover and wood base.
September. The Soeze (sew easy) was on show at the Company's' chief London depot,
14 Newgate St., EC, it was claimed to be one of the best selling lines the Company had
ever produced.

1899 8th April. The following article appeared in the Mansfield Reporter published on
14/4/1899: 'As Mr John Shaw, antique dealer of Mansfield was riding his Bradbury cycle
along Peafield Lane, one of the forks holding his front wheel snapped, and he was pitched
head-first to the ground. He died soon after, his last words being "George, take me home".'
(This item courtesy of David J. Bradbury)