All material copyright David G. Best 2002 - 2008 and David Best 2009 All Rights Reserved.

1900. Patent application made by Bradbury and Co for velocipedes.

1901. Gold medal Birmingham (for Soeze?).
The first Bradbury motor cycle was produced.

1902. Soeze available without top tension & with a treadle stand.

1903. January 30th - February 7th Bradbury displayed six motor cycles at the Crystal Palace Automobile Show, London. The Company was licensed by John Birch to build motor cycles which incorporated his design of brazing the crank case to the frame to give extra rigidity.
In total the Company had been awarded 200 First prizes including 14 Gold for its sewing machines.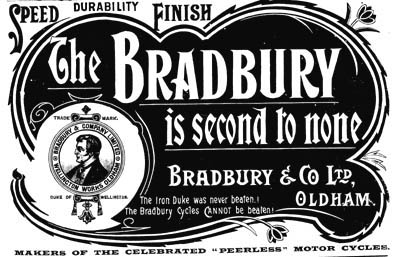 Bradbury Cycle Advert Ausust 1904
1904. January The No. 6 sewing machine was available with an electric motor.
November. W. H. Philips resigned as General Manager of the Company. His
successor was James Howarth. W. L. Carrette became Sales Manager and
Supervisor of Travellers in the Wholesale Trade.
The Company was a Contractor to H. M. Government for sewing machines,
lathes, turret lathes, milling machines and high class machine tools.
Bradbury also made bicycles, pram's, mail carts and bassinettes.
The Peerless Motor Cycle was displayed at the Motor Show held in Manchester
and a 2½ h.p. motor cycle was introduced.
The Company employed 1300 workers.

1905. February. After almost a years development work the Medium V.S.
became available.
Also available were the Soeze, Family High Arm (Transverse Shuttle),
No.2 Rotary, and No.6 machine.
March. More than 200 prizes including 17 Gold had now been awarded.
The Company was advertising the availability of a Fore Car which was a three
wheeler with the single wheel at the back. The passenger sat in front of the
driver in an upholstered seat - best described as a motorized arm chair!

1906. A range of motor cycles was available from £25. Towards the end of this year the Company announced it was closing its Depots and would sell wholesale to Agents.

1908. The No. 45 Rotary Sewing Machine was introduced, so called because Bradbury had made 45 different types of sewing machines since 1852. The Family & Medium V.S. sewing machines were being produced as was the A1 Repairer.

1909. A new 3½ h.p. motor cycle was available at £46. It was claimed power for power to be the best hill climber. Bradbury motor cycles had been awarded a total of 18 Gold Medals in Reliability Trials.

1910. More than 300 first prizes had been awarded. November. the Company had a stand at the Great Cycle Show at Olympia.

1911 P. Platt riding a 3½ h.p. chain-driven Bradbury, with 4 passengers total weight 40 Stones, up Rock Street, the steepest ascent in Oldham - a gradient of 1 in 5.
1911. Bradbury's 3½ h.p. chain driven motor cycle & side car took the Irish
end to end record covering the 390 miles in 14 hours 9 minutes.

1912 March. Spool sewing machine available in addition to those listed
in 1908.
The Bradbury 3½ h.p. motor cycle & side car covered the John o'Groats to
Lands End run, a distance of 886 miles in 38 hours 47 minutes. A Bradbury
motor cycle also won the Transvaal Championship.

1913. A Bradbury motor cycle again won the Transvaal Championship at an
average speed in excess of 60 miles per hour over rough terrain.

1914. Bradbury had the 3½ h.p., 4 h.p., and 6 h.p. three speed V twin motor
cycles in its range. See Bradbury Motor Cycles

1915 -1918. Munitions production?

1919. Approximately. The Family & Medium V.S. sewing machines were
reintroduced as was an Elastic Machine for leather trade (A1 Repairer).

1920. A new 2¾ h.p. motor cycle was introduced to compliment the existing 4 h.p. single and 6 h.p. V type twin. Motor cycles with side cars were also available. The Company was still producing pram's, mail carts, toy cars, bassinettes, cycles and lathes.

1924. The Company ceased all production probably after March.
From 14th July to 25th July the Factory and contents sale took place.

1929 3rd May. Bradbury & Company Ltd was officially dissolved. (Information from Companies House)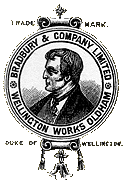 This was not quite the end of production of motor cycles at the Wellington Works. In 1928 A. Greenwood and J. Crump revived the Henley motor cycle as the New Henley, building it in part of the Wellington Works. It remained in production until 1932.

Nor was it quite the end of Bradbury sewing machines. In 1931 a sole engineer at Bromelow and Edwards, Eagely Mills, Bolton was employed to make up a few Bradbury machines from parts presumably purchased when Bradbury & Co Ltd went into liquidation. Bromelow and Edwards is also reputed to have had a stock of Bradbury needles at that time.
Thanks to Denis O'Conner for this post Bradbury information.