All material copyright David G. Best 2002 - 2009 All Rights Reserved.

Produced at Primrose Bank, Rhodes Bank and the Wellington Works.

This was the first "Bradbury"; it was based on the Grover and Baker circular needle machine and was a double chain stitch machine. The Cams were Wrought Iron case hardened which the Company claimed to be far superior to cast iron.

The illustration right shows a Lancashire machine c1862 note the unusual three-legged design and the object under the machine which represents the circular needle.

The Lancashire was used for heavy work and was particularly suitable for Fustians, Corduroys, Overcoats, rugs and carpets.

First produced at a cost of £30 this had reduced to £7 15s by 1884 as over the years it declined in usage and latterly it was being used by stay-makers.

One example is known to be in storage on Clydeside.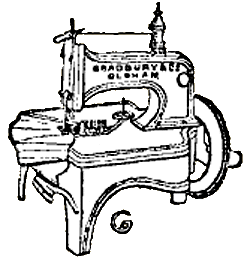 INDEX of BRADBURY SEWING MACHINES
CLICK on a CAPTION