All material copyright David G. Best 2002 - 2009 All Rights Reserved.

Made at the Wellington Works the Belgravia was an improved Wheeler and Wilson type. Machines produced after the 24th June 1874 bore the Duke of Wellington Trade Mark and some machines had BELGRAVIA cast in the cross-brace.
It was available in various forms with bronzed or silver plated arms, polished or unpolished tables and cases.

The Belgravia was designed to produce the stitch types of machines made by Wheeler & Wilson (lock stitch), Grover & Baker (double chain stitch) and Willcox & Gibbs (single chain stitch). In addition Pearl, Cable and an Embroidery stitch could all be produced on this machine.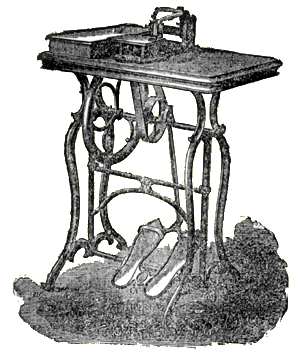 Introduced in 1867 it was awarded medals at Manchester and Liverpool in that year.
In 1868 it achieved Medals at Manchester, Liverpool, Rochdale and Middleton.
Other medals were awarded at Accrington 1869, Lyons 1872, Paris 1872 and Vienna 1873.

In 1869 the Belgravia was available in the following forms:
No. 1 With workbox platform from £7 7s
No. 2 With quarter case, workbox platform from £8 10s
No. 3 With half case, workbox platform, 2 drawers from £8 15s
By 1884 these prices were: £7, £7 10s and £8 15s respectively.

If you have one of these machines you would like to sell please email us - sorry U.K. only.

INDEX of BRADBURY SEWING MACHINES
CLICK on a CAPTION