All material copyright David G. Best 2002 - 2009 All Rights Reserved.

Produced at the Wellington Works.

This was an industrial machine based on the same principle as the No. 2 Rotary but it had two needles and two shuttles. Designed for manufacturers of hosiery, stays, corsets, it could also be adapted for a variety of other trades. Depending on the use special feet were provided which were designed to order.

The machine produced two parallel rows of lock stitch sewing in one operation thus saving 50 per cent in time. The needles could be adjusted from 3/32 of an inch to 3/8 of an inch.

So similar was the machine to the Rotary Shuttle the Company used the same illustration as that for the No. 4 Rotary machine!

Production of this machine is believed to have ceased in 1897.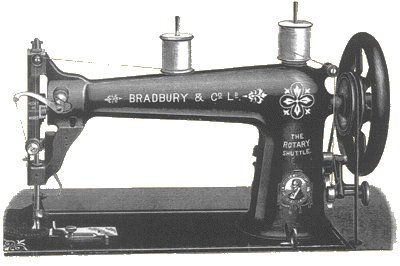 INDEX of BRADBURY SEWING MACHINES
CLICK on a CAPTION