All material copyright David G. Best 2002 - 2009 All Rights Reserved.

The Soeze Vibrating shuttle machine was introduced in 1898 to compete with cheap German imports which were flooding the British market at that time.

The name was chosen in June 1898 as the result of a competition which was reported in the Sewing Machine Gazette as follows:

"An interesting competition has been in progress during the last few weeks promulgated by Messrs Bradbury and Company, Oldham. It appears they are about to introduce a new lock stitch hand machine and they have hit upon the novel idea of inviting the selection of a name for the machine by some member of the great British public, and offered a "hand sewing machine and cover" free to the person suggesting the most suitable name. We understand that the successful competitor is Mrs Clements, 21 Brown Street, Burnley, and a hand machine and cover, value £5 17s 6d, has been sent to her. The name selected is the word "Soeze" (sew easy)."
Thanks to Claire Sherwell of the Needlebar Group for this information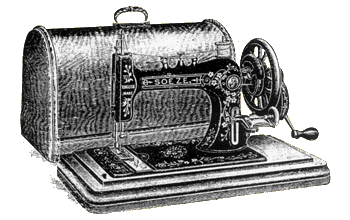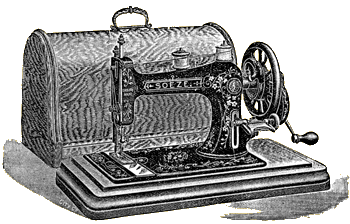 Early models had the leaf tension on top of the arm (as shown above) and a single spool pin, this was soon changed to the conventional arrangement shown left. Later machines were further improved as follows:
1) All bright parts were plated.
2) Feed levers were of a different design.
3) Feet were fitted to the underneath of the machine.
4) Improved hinges.
5) Wood base recessed to take the machine.
6) Stand was improved it had a stronger section and
was more elegant.
7) Cone bearings fitted to stands.

Despite these improvements it appears that the Soeze was relatively unsuccessful and was only produced in limited numbers as a Hand Machine, Treadle with various drawer arrangements including a Drop Head version.

In 1906 following further modifications the machine was re launched as
Bradbury's Family V.S.
The Company also advertised the Soeze with an ornamental iron base priced at £5 0s 0d which included a Deal Box, a Walnut stained box was available for an extra 7s 6d.

In America we believe New Home marketed a machine similar to Bradbury's early version also under the name So-e-ze (note the hyphens) but as far as we can ascertain there was no connection between the two Companies.

Price 1898/1902/1905:
£5 17s 6d with Walnut base with cover.
£6 as a treadle without the cover or £6 17s 6d with.

Threading & Oiling of Bradbury's Soeze (late model)

Photographs of Soeze Machines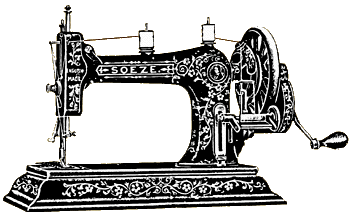 INDEX of BRADBURY SEWING MACHINES
CLICK on a CAPTION