To see photographs of Bradbury's Letter H machine click on the title above.

All material copyright David G. Best 2002 - 2013 All Rights Reserved.

Produced at both Rhodes Bank and the Wellington Works these machines were awarded the only Prize Medal for general excellence at the Northampton Leather Work Exhibition in 1873.

Letter H machines produced in 1863 had a plain pedal, later the pedal was cast with B & C O and post 5th May 1874 Bradbury & Co Limited Oldham. The Duke of Wellington Trade Mark only appeared on machines made after 24th June 1874. Initially this was in the form of a brass boss inset into the bed of the machine but later a decal on the pillar was used.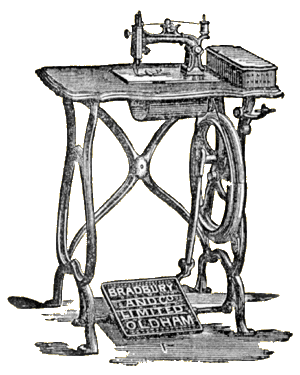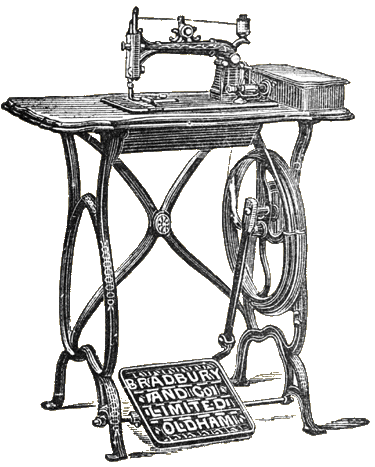 The machines were converted with a patent top feed, a step feed for cloth was available on model No's 1, 2 & 3 or a wheel feed for leather available on model No's 2 & 3.
By September 1878 Letter H machines were fitted with a stitch indicator and self-threading shuttle.
A new patent automatic shuttle reel winder was fitted to all machines by December 1879. This was mounted on the bed of the machine in front of the pillar instead of under the table.
The Letter H machines were available with either round (see illustrations above) or flat (leaf) tension (see illustration below).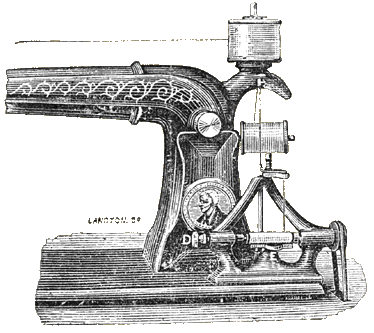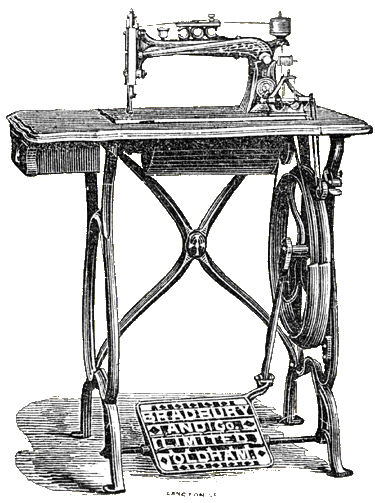 In 1871 the prices were:
No. 1 A for Family use £6 10s, No. 2 B for Cloth/Leather £7 0s, No. 3 C for Leather £8.
By January 1884:
the No. 1 A and No. 2 B had both increased to £7 10s while the No. 3 C had remained at £8.

If you have one of these machines you would like to sell please email us - sorry U.K. only.

INDEX of BRADBURY SEWING MACHINES
CLICK on a CAPTION