All material copyright David G. Best 2002 - 2009 All Rights Reserved.

Produced at the Wellington Works.

Designed to compete with the Singer 12 and 13, the Letter S machine was made as the Family (No. 1) or Medium (No. 2) machine, both were fiddle based and were available as treadles. The Family machine was also produced as a hand crank.

When the High Arm Family machine was introduced Bradbury continued producing the No. 1 machine for a time as the "Low Arm" machine.

The 1875 model as illustrated (below) had a shaped table, small drawer, plain stand with small fly wheel with Bradbury & Co Limited Oldham on the pedal. Some models had a picture of the factory on the bed others had flowers or a bird.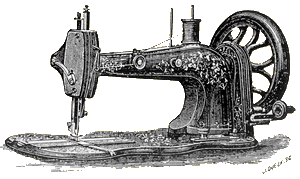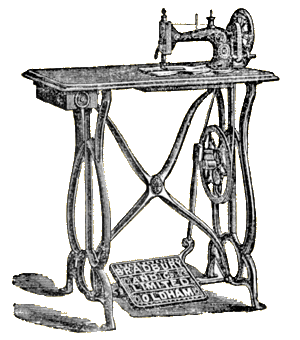 In 1875 Bradbury patented a number of improvements to the Letter "S" machines and their advantages over Singers were claimed to be:
1 Fitted with fast and loose wheel self-acting and stopping, saving 25% wear and tear on the machine.
2 Eliminated having to remove sewing or unthreading the needle.
3 Prevented the machine working the wrong way.
4 Noiseless.
5 No change in regulation.
6 Couldn't get out of order.
7 Automatic shuttle cover.
8 Automatic spool winder.
Right:
A later illustration of the Family machine taken from the instruction manual. This is the improved version, and is mechanically different to the early version which is shown top right which does not have a take-up lever.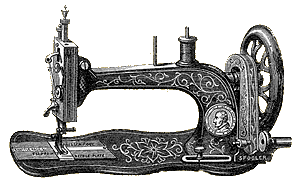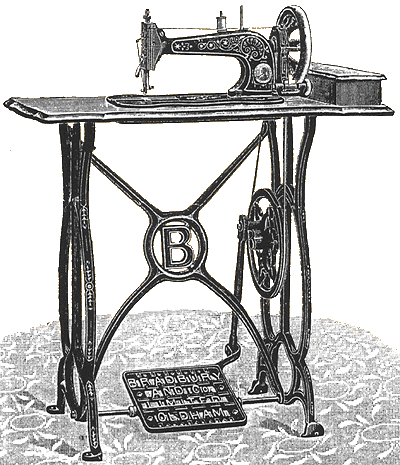 Left:
A typical Medium machine as illustrated in the manual. Note the large B in the stand and the Company name on the tread plate. This version was available with two drawers in place of the accessory box on the table. The stand was later modified with the Pitman being attached to a cranked shaft rather than directly to the fly wheel.

In 1875 the Family machine cost £6 10s, and the Medium £7 10s. Both machines were still available without the patented improvements at £5 5s.
More expensive versions were produced including machines inlaid with Mother of Pearl and with the treadle base incorporated into a mirrored cabinet.

Photographs of Letter 'S' Family No. 1 Machines

Photographs of Letter 'S' Medium No. 2 Machines

Threading & Oiling of Letter 'S' Family & Medium Machines

INDEX of BRADBURY SEWING MACHINES
CLICK on a CAPTION