---
The firm was established by L.O. Dietrich, H. Kohler and G. Winselmann in 1871 at Altenburg, Germany. Kohler and Winselmann left the firm in 1877 to form their own company Kohler & Winselmann which like L. O. Dietrich was based in Altenburg. L.O. Dietrich changed its brand name to Vesta shortly after Dietrichs death in 1904. The firm continued to produce sewing machines until World War 2.
---
L.O. Dietrich (Vesta): Serial No. 1487439.

Made by L.O. Dietrich in the early 1930's this is a High Arm Family machine.
On the arm of the machine the retailers name - J. D. Williams & Co Ltd, Manchester can be made out , the firm which were general merchants & shippers had premises at 34 Hilton Street.

The attachment compartment has a swiveling wooden lid with pin cushion which was a characteristic of machines made by L.O. Dietrich.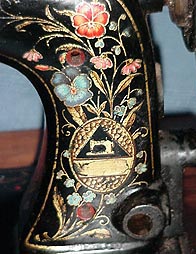 Right: The bobbin winder has been removed to show the Company's' logo of the profile of a sewing machine in a triangle. The name 'Vesta' which would have appeared beneath the logo has been crudely removed.

Left: Although it is worn the decal pattern of Pansies is one we have not come across before.
---
Sylvia: Serial No. 1619431.

Badged for Kendal Milne and Co. Manchester (a Large Department store) in 1932, this design of 3/4 size machine is generally known as Saxonia.

Unfortunatelythis machine has seen beter days. The decals feature a lion at rest holding a shield and this is on both the top of the arm and centre bed. On the pillar is the company's trade mark a sewing machine in profile in a triangle again the word Vesta has been overpainted.

The crank is recessed into the base and the bobbin winder is the earlier type.
---
Vesta: Serial No. 1632485.

Manufactured around 1933 this 3/4 size machine is in amazing condition, it looks as though it has never been used. The decals are 98% complete with stylized red flowers and leaves.

The bobbin winder is of the later design.
---
Vesta: Serial No. 1632968.

Another example of this 3/4 size machine, but in a slightly different form was made almost at the same time as the above machine.

Note the recess in the base for the hand wheel and the lack of accessory compartment. The bobbin winder is directly driven rather than from the balance wheel.
---
Vesta: Serial No. 1991349.

Manufactured in the late 1930's this is a lovely little machine. The porcelain handle has been cracked and repaired at some point and the pin cushion on the metal compartment lid has seen better days.

The Art Deco decals are bright and near perfect and it has a different design of the company's Trade Mark.