---
The firm was formed in 1871 by Carl Grimme and Kaufmann A. Natalis who prior to that date had been producing sewing machines independently of each other. The company went on to produce a wide variety of sewing machines from their factory in Braunschweig, Germany. Many of these machines were exported to Great Britain either sold by retailers or agents. Charles Bradbury was the company's Wholesale Agent from 1883 until end November 1895.
In the 1890's Grimme Natalis & Co. diversified and started producing calculating machines which were extremely successful.
---
Empress: Serial No. Unknown.

Manufactured by Grimme, Natalis & Co. the company produced this particular machine specially for Solomon Davis & Co., Period House, Borough, London. This firm is known to have been established pre 1872 and continued in business retailing sewing machines until 1915, the firm having become a Limited Company c1908.

S. Davis & Co. used the legend "I move with the times" on its machines and this appears on the small brass boss in the centre of the bed along with the firms intertwined initials. It's unusual bed shape makes it an interesting machine despite the wear to the decals and missing slide plate. The remaining slide plate has has the Registered Design number 41397.

A simpler version of this machine is known to have been produced which has the stitch length adjuster under the machine and a basic bobbin winder. This example was probably made in the late 1870's.
---
Atlas 'B': Serial No. 188610.

Made by Grimme, Natalis and Co. for the Atlas Sewing Machine Co., 182 High Street, Camden Town, London. The Atlas Sewing Machine Co. advertised this model from c1894 to at least 1911. Priced at 39s, it was guaranteed for four years.

This particular example probably dates to c1900. It appears to be a development of the Empress machine (shown above) with some minor improvements and a retangular bed.

There was also an Atlas 'A' which was made by Bremer und Brückmann D-Braunschweig, between 1876 and 1900.

With the outbreak of World War One the Atlas Sewing Machine Co. turned to the United States for supplies of sewing machines and the Atlas B and an Atlas D were produced for the company by New Home. In 1921 the Atlas Sewing Machine Co went into liquidation.
---
Atlas 'B': Serial No. 193226.

A slightly later example of the Atlas B.
---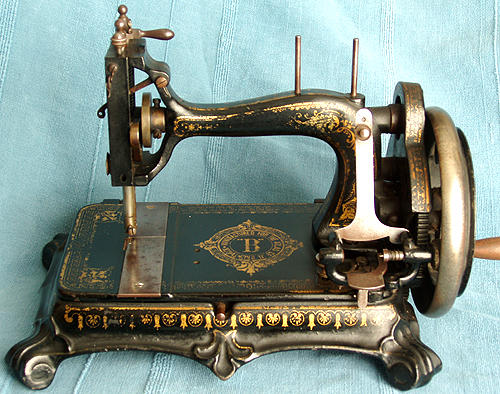 Atlas 'B': Serial No. 203905.

This machines in much better condition. Note that Braunschweig is spelt as Brunswick which is the English spelling
---
Grimme Natalis AI: Serial No. 553006.

The company introduced its revised High Arm Family machine with a rectangular bed in April 1891. One particular feature of the company's machines was the "dial" stitch length adjuster which featured on many of the firm's machines from as early as 1885. Note also the inlaid ruler.
Grimme Natalis & Co's High Arm Family machines do not seem to be as common as those of other German manufacturers so although the decals are worn this is a welcome addition to the collection and was donated by James Crosbie.

Grimme Natalis & Co used the company's intials intertwined on a round shield supported by sepents either side as its Trade Mark and this appears on a metal disc on the pillar.