---
Cast base machines seem to have been particularly popular with German manufacturers and most were produced in vast quantities for export. These machines were often given British sounding names or labelled for specific importers or retailers so the same machine can be known by several different names!

Being cast based it is easy to think these machines were made earlier than infact they were, for example "The Elsa" was produced for over 35 years during which the design remained largely unchanged and the machine was still in production at the start of the First World War.

These cast base machines turn up quite regularly in Great Britain, the decals tend to have deteriorated until they are all but none existent, the japanning however survives well. On many of this type of machine slide-plates and other bright work was not plated and is often rusty but cleans up quite well. Unless you are really desperate to own one of these machines it is not worth buying a machine with missing or broken parts unless it is an uncommon example.

German manufacturers extensively copied and also improved the Singer New Family machine, they were made with both cast and wooden bases the latter frequently having an inlaid ruler in the base. These machines were sometimes highly decorated with flowers and Mother of Pearl.
---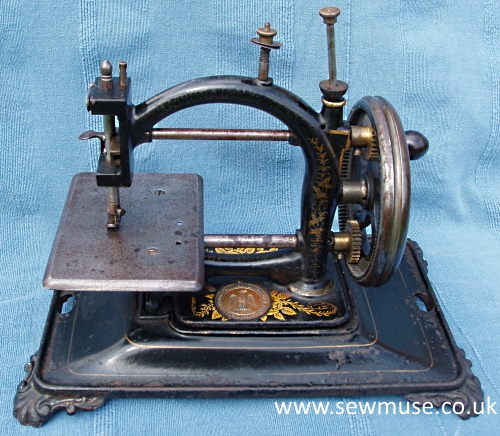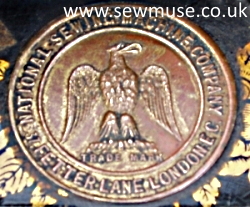 National Express Serial No. Unknown.

Guhl & Harbeck was established in 1867 in Hamburg. The company produced a wide range of sewing machines many of which were for export. The company later diversified into producing typewriters. Having survived two World Wars the company finally closed in January 1970.
One of Guhl & Harbeck's best selling machines was the Original Express chain stitch machine which was sold under many different names. This particular example was named the National Express and was probably made in the 1880's.
It was sold by The National Sewing Machine Co., 37 Fetter Lane, London and has a brass medallion - which includes the company's eagle logo attached to the base of the machine. By 1891 the National Sewing Machine Co's. address had changed to 34 Fetter Lane.
This example retains quite a lot of the original decoration although the name "National Express" which appears on the arm of the machine is worn. It would originally have had a tin case but at some point in its history this has been lost.
---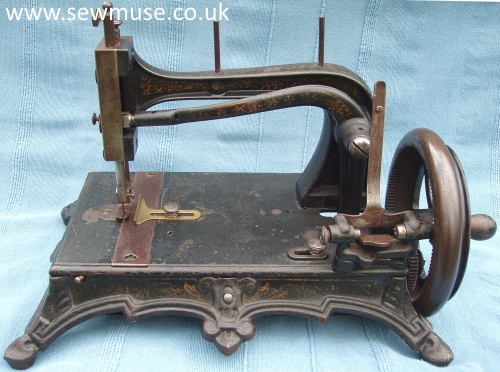 Rhenania? Serial No. 81777.

This type of machine was made, with minor variations, by many German manufacturers and was sold under two main names Rhenania and Humboldt.

Who manufactured this one is not clear, although it may have been Tittel and Nies, Saalfeld. The original firm was established in 1863 by Wilhelm Tittel and became Tittel and Nies in 1884 when Gottfried Nies became a partner. In 1893 Tittel left but the company continued and made a wide range of sewing machines many of which were exported to Great Britain. The firm was taken over by Adolf Knoch in 1911.

This is a version of a Grover and Baker machine. There is no takeup lever instead the thread passes round a pair of discs mounted on top of the needlebar, as the bar rises so thread is drawn from the spool. Although it is in poor condition surprisingly the brass hemmer guide was still attached to the machine.
---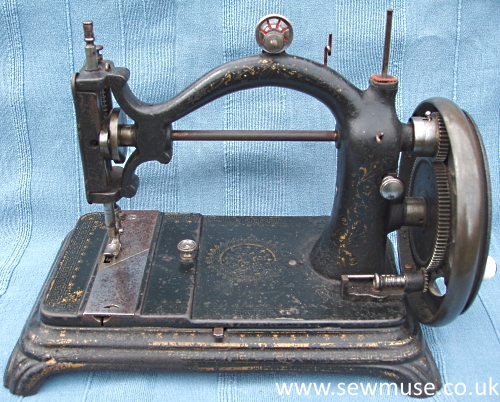 Elsa: Serial No. 77875.

Originally we thought this machine was a Naumann Glady's however we have now received information that it is an Elsa made by Baach & Klie and we think it dates to the 1880's.

Baach & Klie started manufacturing sewing machines in the mid 1870's and in 1890 moved from 8 Salzdahlumer Street to 34 Gertruden Street, Braunschweig. In 1894 the firms name was changed to "R. Lehnmann formerly Baach & Klie".

The Company specialised in producing machines for export and the British Agent was C. Lohmann, 22 Jewin Street, London who by 1895 was trading from 36 Aldersgate Street, London. The Elsa was first produced around 1876 and was still being made in 1912. The firm was still in existence in 1926.
See pictures of the restoration
Thanks to Ludger Halbur, David Sterling and Jennifer Hill of the Needlebar Group for information regarding this machine.
---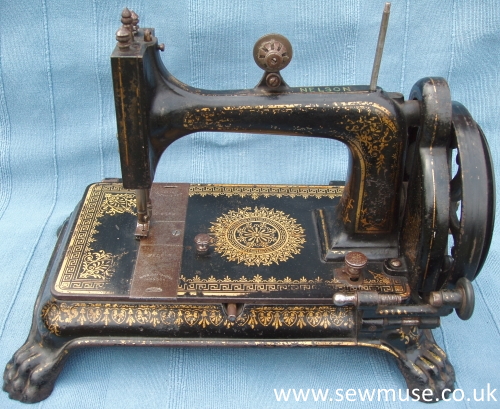 Nelson Serial No. 8944.

There is no indication of the manufacturer of this machine but it was probably produced by Ernst Bötcher who started producing sewing machines in 1859 in Berlin. His early machines were based on Wheeler & Wilson and Willcox & Gibbs principles. The firm was reasonably successful and production continued until 1930 when we understand it was purchased by Singer.

This machine was imported into Great Britain by the American Sewing Machine Company which was established by Edwin Todd in 1863 and who traded in partnership with John White until 1872.

The firm specialised in importing and badging machines. In 1872 it was operating from 320 High Holborn, London and some 8 years later at 8 Rose Street, London moving to 7 Ludgate Square, London in 1894, where it remained until 1915.
It is typical of the 1890's with its paw base and with top tension. The handle is of wood not porcelain. The decals on this machine are in particularly good condition with the name Nelson is visable on top of the arm. The slide plates are plain steel with the Company name stamped on both. The machines serial number is stamped on the needlebar. Note the primitive drop down bobbin winder.

The same type of machine was offered for sale by James G. Weir, with his trade mark: Jas G. Weir 2 Carlisle Street, Soho Square, London, W. stamped on the slide plate.
Thank you to Graham Forsdyke/Claire Sherwell for their information regarding this machine.
---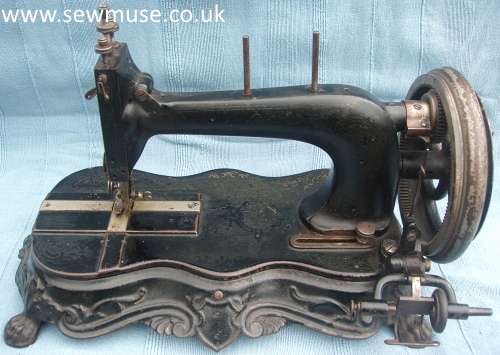 Junker & Ruh Serial No. 190710.

Manufactured by Junker & Ruh which was established in 1870 by Karl Junker and August Ruh in Karlsruhe, Baden. Production increased rapidly and 25,000 sewing machines were made in 1876. By 1878 the company was producing the Original Fidelitas, Original Badenia, Original Kolumbus and the Original Rhenania which was based on the Grover & Baker No.19. The Company developed more modern machines including a High Arm Family transverse shuttle machine branded the Erda and a vibrating shuttle machine known as the Frigga both of which were available in 1901.

The decals have all but gone but were originally gold with red pendants around the base. At the bottom of the Pillar it has ' Made in Germany' and beneath that, although the wording is virtually unreadable, 'Especially for Kay & Company Worcester'. Kays still exist and are a large Mail Order Catalogue Company based in Worcester, England.
The bobbin winder on this machine is slightly unusual with a wire "spoon" and "guard".
Thank you to Lyn Forsyth/David Stirling/Claire Sherwell of the Needlebar Group for information regarding this machine.