The Jones "B" was built under licence from the Howe Machine Co. and was designed primarily for the use of tailors. The Company produced a smaller version - the "A" for families & dressmakers and a larger version - the "C" used for leather work. Because they were used for commercial purposes very few examples have survived and those that do are often quite worn.
---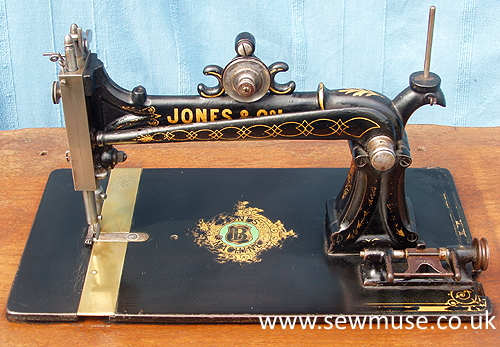 Jones "B" Howe Principle Serial No. unknown.

This machine was probably produced in the late 1870's or early 1880's. The bed is worn but the centre decal reads Jones B Machine. The cover and accessory compartment which would have been on top of the table are missing. The shuttle has the Patent No. 1056 and the bobbin winder which is located on the bed of the machine has the Patent No. 2854 together with another number 19704. The slide plates are brass and the company Trade Mark is on the rear one.
The stand is of an early design.