For information about the history of Bradbury's Spool machine click on the title above.

All material copyright David G. Best 2002 - 2009 All Rights Reserved.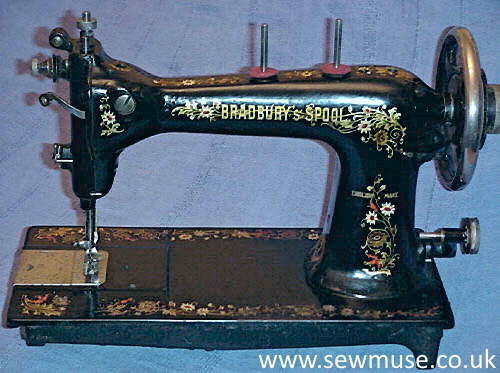 Bradbury's Spool.

This machine probably dates to 1908 as it was apparently bought as a wedding present in that year and it remained in the same family until added to our collection. This ties in with our own research material.

Originally designated the No. 6 sometime between 1905 and 1910 it was re designated Bradbury's Spool and appears to have been the equivalent of the Wheeler & Wilson No. 9.
Decal detail from the pillar. The machine has very attractive Daisy decals which have become slightly worn on the bed through many years use. The "Dukes Head" Trade Mark is on the pillar beneath the arm. When not in use the machine is covered by a coffin top, the table has five drawers and extension flap.

Threading & Oiling of Bradbury's Spool Machine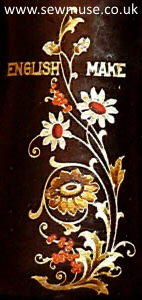 INDEX of BRADBURY PHOTOGRAPHS
Click on a Caption