All material copyright David G. Best 2002 - 2009 and 2015 All Rights Reserved.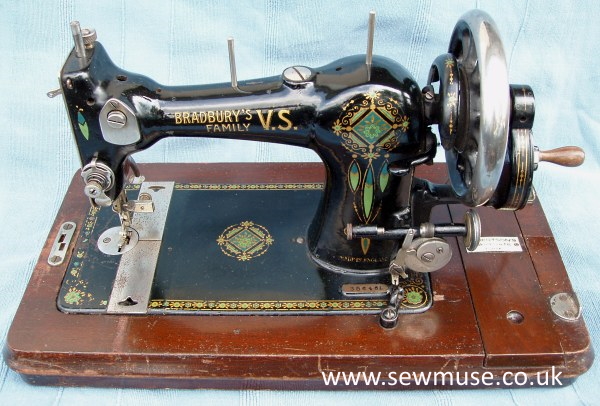 Bradbury's Family V.S. Serial No 356461.

A number of Jones Family and Medium C.S. types with tear drop decals have come to light which are labelled as Bradbury's V.S. machines and the store name "Glodwell" also appears on several machines.

The Family C.S. machines appear in both genuine Bradbury bases and cases with later Family machines having standard Jones woodwork.

The Medium C.S. machines mainly appear in Jones parlour cabinets however there are examples of both Jones metal as well as wooden treadles which have been adapted to incorporate the Bradbury front panel and drawers.

From our research we know that all the Jones heads were made after July 1924 so these machines cannot be classed as true Bradbury machines. The firm that wholesaled them continued labelling Jones manufactured machines as Bradbury's until the early 1930's.

This machine came with a generic Jones Manual with a date of April 1924 and this machine was made c1925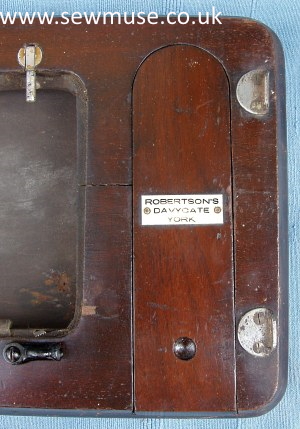 The Bradbury name is prominently displayed on the arm but it does not have the Duke of Wellington Trade Mark. There is a retailers plaque on the accessory compartment cover for "Robertson's Davygate York"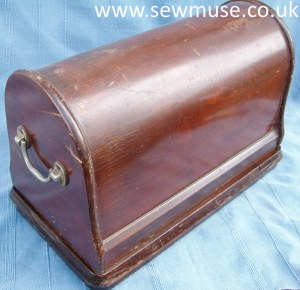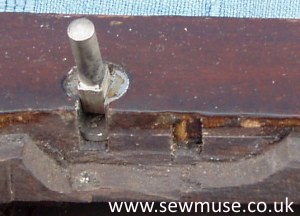 The case and base of this machine are genuine Bradbury items as are the fittings - the case even locks with a triangular key.

However on the Bradbury V.S. and Jones C.S machines the sockets for the hinges are spaced differently so a Jones C.S. head will not drop straight into a Bradbury base.

On this example it can be seen that the Bradbury base has been cut out to accommodate the different socket location with the hole for the original Bradbury peg & socket hinge having been plugged - just to the right of the hinge. What is particularly interesting is that the veneer has been added AFTER the modifications to the base have been made.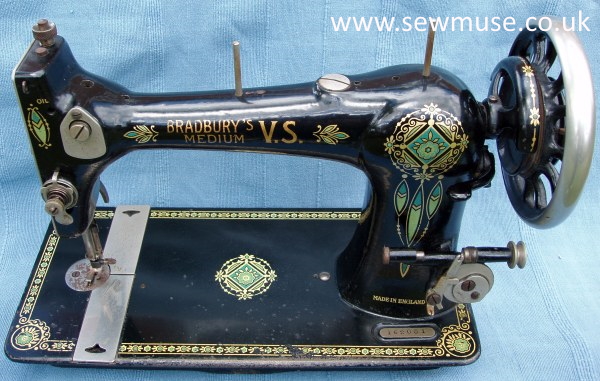 Jones Medium Serial No.162031

Although this machine is labelled as a Bradbury's Medium V.S. it is without doubt a Jones machine - in particular note the large screw between the two spool pins which is a key identifier.

It came in a Jones Parlour Cabinet which we have yet to photograph.

It has tourqoise "tear drop" decals and we know it was made in late 1931 or early 1932 some seven years after the Bradbury company had gone into liquidation.

We can also confirm that the Bradbury's Medium V.S. decal on the arm was not a left over from the Bradbury Company but was specially produced.

INDEX of BRADBURY PHOTOGRAPHS
Click on a Caption