For information about the history of Bradbury's Family V.S. click on the title above.

All material copyright David G. Best 2002 - 2017 All Rights Reserved.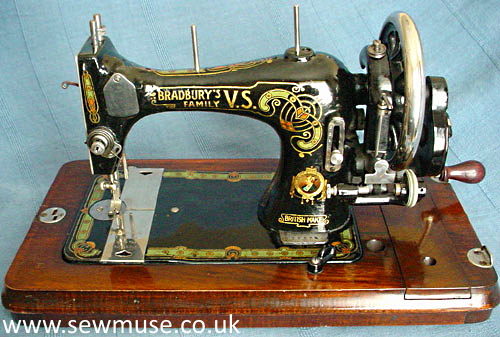 Bradbury's Family V.S.

Another example of the Family V.S., though in better condition. The bentwood case has a metal handle at either end. The Family V.S was also produced as a treadle with various types of cabinet work including a drop head parlour cabinet (See previous page).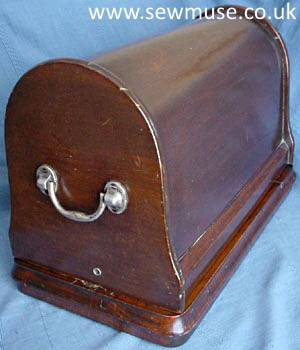 Bradbury's Family V.S.

Although this machine doesn't carry the Duke of Wellington Trade Mark it is without doubt a Bradbury Family V.S.
The centre decal shows it was retailed by E. Hancock, 15 Curzon Street, Derby who chose the name "Victoria" for this machine. The shop was known as Hancock's and was advertising the Victoria sewing machine in 1921 and Vibrating Shuttle machines in 1923. From information we have on the Bradbury database this machine would date to 1922.

By this date the head casting had been changed to provide a raised platform for the second spool pin.
The machine has a bentwood case.

Further research has confirmed that Elijah Hancock sold domestic appliances from 15 Curzon Street c1912 - c1929. Prior to that in 1899 he is listed as a Perambulator Dealer trading from 127 Normanton Road, Derby and in 1895 as a Grocer with premises at 122 Boyer Street, Derby. He does not appear in the 1891 trade directory.
If anyone has any further information relating to Elijah Hancock we'd be interested to hear from them.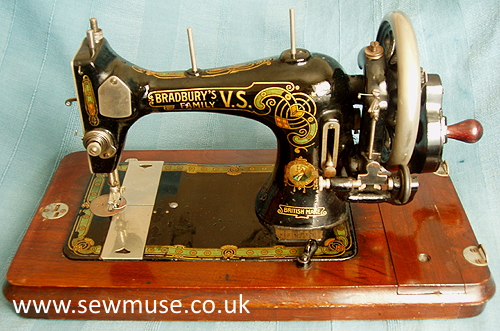 Bradbury's Family V.S.

Although not in perfect condition this is a very special Bradbury as we know it was completed at the Wellington Works on 20th October 1922. It has all the usual features of the late model Family machine. It came complete with manual, inspection card and box of attachments.
Before any Bradbury sewing machine left the factory its adjustment was carefully checked and the worker responsible initialled and dated a card. This was sent with the machine to the selling Agent but before delivery to the customer the Agent checked the machine again. If the machine was satisfactory the card was removed and disposed of, if there were any faults the card was returned to the factory. Either way this card should not have survived! Interestingly the initials on this card - W.G. are the same as those on a Company receipt dating to March 1918.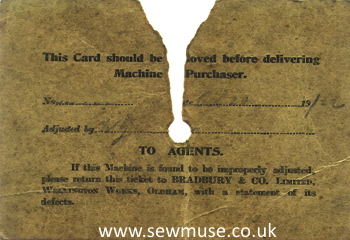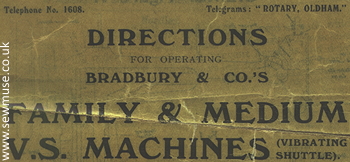 The machine has its original manual which has confirmed our long held belief that the Bradbury Company changed its telephone number to 1608. The manual also had a supplementary insert providing guidance on how to use redesigned attachments.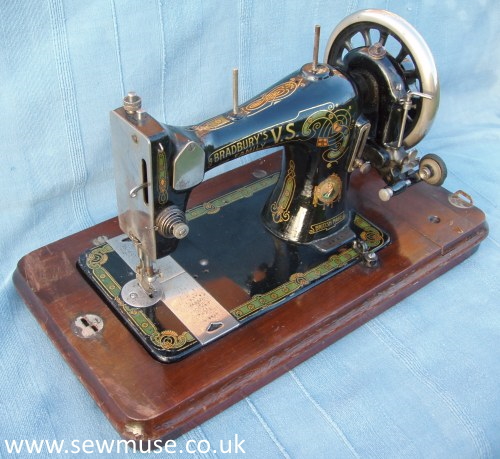 Bradbury's Family V.S.

Three quarter view of the Bradbury Family V.S.the design of which remained largely unchanged from around 1907 until production ended.
The design of the bobbin winder goes back to the the Wellington and Family Transverse shuttle machines of the 1880's. However shortly after this machine was produced the company introduced a completely different design (see below).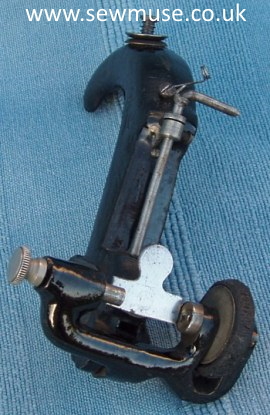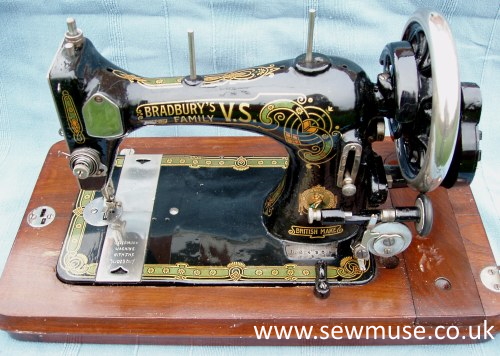 Bradbury's Family V.S.

At first glance this appears to be a standard Bradbury's Family V.S. however it has a new design of bobbin winder similar to that used on the Jones C.S. with a heart shaped cam.

A special bracket was produced to mount the new winder and a new design of belt guard was fitted.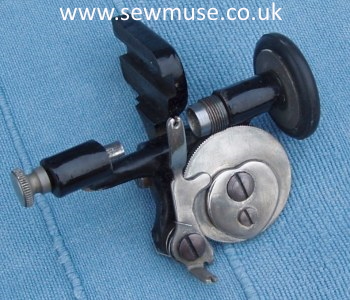 From the Bradbury database we know that less than 700 Family V.S. machines were produced with the new style bobbin winder in late 1922 and early 1923 however the Company then reverted back to the original style.

The new winder was also fitted to Bradbury's Medium V.S. and the company used a mix of old and new winders on its Medium V.S. machines right up until it ceased production.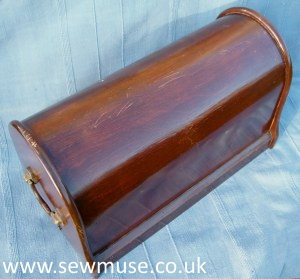 The Bradbury company used both coffin and bentwood covers throughout its production of Family V.S. hand machines.

This bentwood case has a faint stamp mark on the inside for Venesta which was one of the largest importers of quality birch plywood in Great Britain.

The Venesta company was founded in 1898 with a factory at Millwall and later another in Silvertown, London. As well as selling plywood and plywood products the company went on to produce metal foil.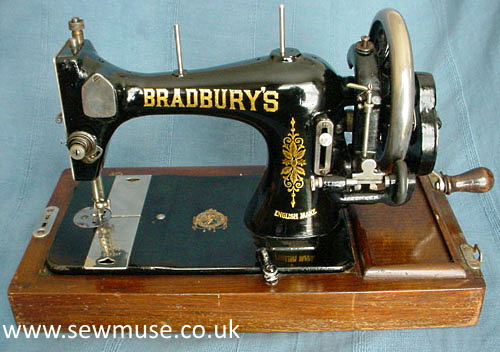 Bradbury's Family V.S. Serial No. unknown.

An unusual Bradbury V.S. which has at some point been refurbished, sadly the Serial Number has been ground off, replacement decals added and the base and cover have been replaced with none original items. Although it still bears the company's Duke of Wellington Trade Mark it is unlikely that this work was carried out at the Bradbury factory.

INDEX of BRADBURY PHOTOGRAPHS
Click on a Caption