For information about the history of the Letter "S" and Family No. 1 click on the title above.

All material copyright David G. Best 2002 - 2015 All Rights Reserved.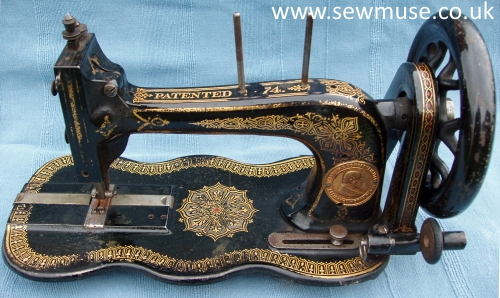 Bradbury's Letter "S".

This example of Bradbury's Letter "S"machine probably dates to 1875 and for a machine of such an early date the decals are in very good condition with only minor wear, note the 1874 Patent date on top of the arm and the stunning centre decal.

It would originally it would have been mounted on a treadle stand as indicated by the flare on the belt guard - see below left.

As this is an early example although the balance wheel can be disengaged for bobbin winding the actual mechanism for doing so is different to later models.

The bobbin winder is of a rudimentary design and does not feature the level wind which was introduced on later Bradbury machines.
The Company's Duke of Wellington Trade Mark is embossed on a metal disc attached to the machine. This is the original Trade Mark design with the Duke facing to the right. The later design shows a younger Duke of Wellington facing to the left.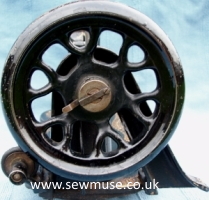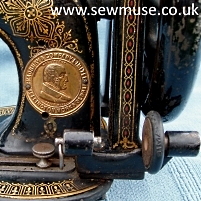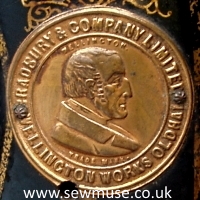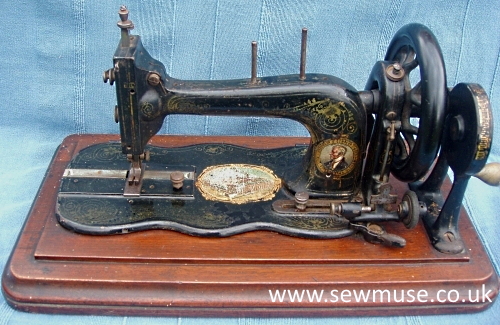 Letter "S".

The Letter 'S' was Bradbury's equivalent of the Singer 12 but it featured various improvements including a self threading shuttle and Patented bobbin winder. It was available as a treadle as well as a hand machine.

The hand crank mechanism is mounted separately on the base and the balance wheel is japanned black.

The decals are heavily worn and the shellac coating has yellowed in places. The centre decal is an illustration of the factory as it was c1880 although this machine probably dates from around 1885.

Threading & Oiling of Bradbury's Family (No. 1) Machine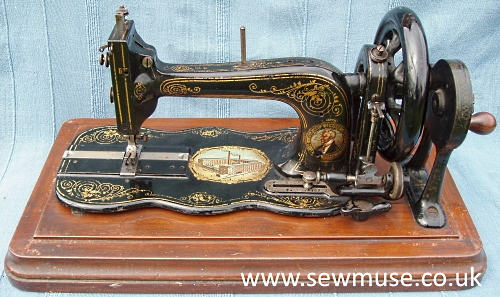 Bradbury Letter "S".

This machine is of a similar age to the machine above. It would originally have been mounted on a treadle but the head and cover were found in an attic in Wales. Given the condition of the decals we used a spare base and handcrank mechanism to give the machine a new life. The cover has been kept although as it was for a treadle it is considerably smaller and has no metal accessory compartment. It has a wooden swivil instead of a metal J clamp to hold it in place on the machine.

Below left shows simplified mechanism for disengaging the balance wheel.

Below centre shows the improved bobbin winder with level wind.

Below the Wellington Works.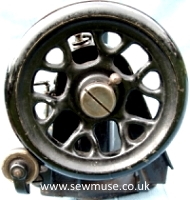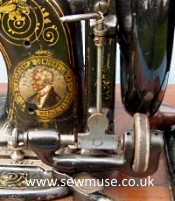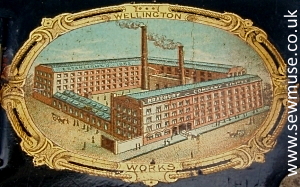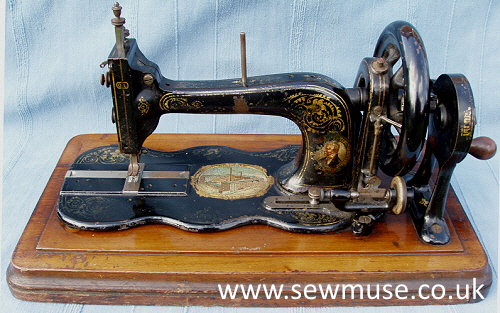 Bradbury No.1.

Another example of this decal pattern. Although the edge decal is worn the centre decal has survived largely intact.

Note the damage to the jappaning on the arm which is caused by the metal J clamp.

Bradbury Letter "S".

This machine probably dates to c1885.
The decals are very worn but the centre decal was originally gold roses and the 'Duke' is on the base of the pillar.


INDEX of BRADBURY PHOTOGRAPHS
Click on a Caption