All material copyright David G. Best 2002 - 2010 All Rights Reserved.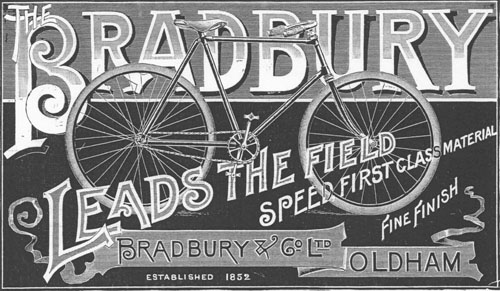 The earliest documentary evidence we have found for Bradbury & Co Ltd producing cycles is a Bradbury Cycle catalogue dating to 1894 at which time the company was producing Roadsters, Road Racers, Path Racers & Tandems. The following year a testimonial refers to a Bradbury bicycle which had been ridden over the Alps by the company's Macclesfield agent Walter Addy.

The cycles the Company made all went by the name of "The Bradbury" but they were produced in a number of different designs such as the Popular Light Roadster, Road Racer, Path Racer, Lady's Saftey and a two versions of a Tandem (c1900). It would appear from the price lists we have that the machines were made to order through the many of the company's sewing machine Depots and Agencies.

The machines could be fitted with a variety of extras including a choice of handle bars, gear cases, detachable mudguards and a brake!
The standard Gent's frame c1902 was 24in but a 22in or 26in was available to order. Lady's machines had a 22in frame as standard with 20in and 24in also available. The type of tyre could be selected either - Clincher, Palmer or Dunlop-Welch.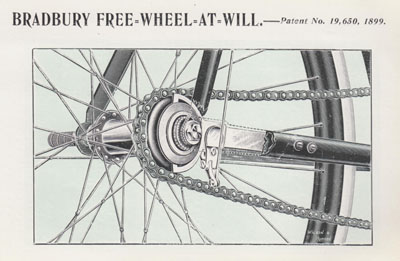 In addition the Company patented two devices which it claimed made the Company's machines the best. In 1898 the Company patented its bottom bracket eccentric chain adjustment and in 1899 the Bradbury "Free Wheel at Will" was patented this allowed the free wheel to become locked, making it easier to dismount and back pedal.

The standard Bradbury finish in 1902 was enamelled Black with bright parts heavily plated. However for an extra charge machines could be enamelled in Dark Green, Maroon, Tan, French Grey, Electric Blue and Ivory all lined in gold.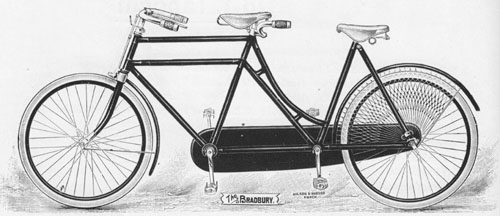 The company claimed that its cycles could not be beaten, in 1899 Bradbury Cycles won over 200 events including the Third of a Mile Amateur Championship of the World held at Montreal, Canada, the Professional Championship of Russia at Warsaw (now Poland), the Liverpool Anfield C.C. 50 Miles Road Race and the Ten Mile Match for the Absolute Championship of Scotland.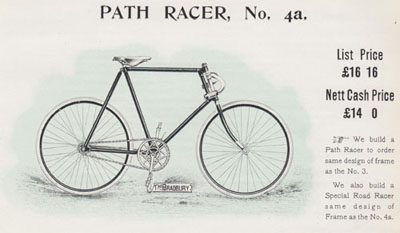 The last actual documentary evidence we currently have for the production of Bradbury cycles is an advertisment for May 1914 for the Company's A1 Model Gent's Cycle priced at £6 0s 0d. However there is anecdotal evidence that cycles were being produced in 1920.

If you have any further information about Bradbury's Cycles please contact us, we are particularly keen to obtain further price lists and advertisments.
We'd also like to obtain an example of a Bradbury cycle.