All material (except where otherwise indicated) copyright David G. Best 2002 - 2009
All Rights Reserved.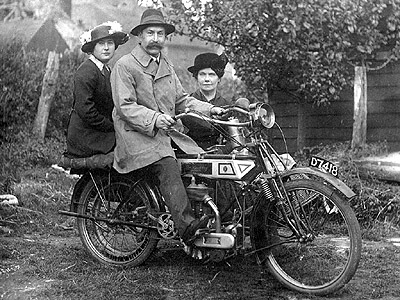 What appears to be a family photograph proudly featuring a 3½ h.p. belt-driven Bradbury c1912.
Along with Rover, Triumph and Matchless Bradbury were one of the pioneers of the British motor cycle industry and yet very little has been written about Bradbury motor cycles.
The information and illustrations that follow have been obtained from various sources. We are particularly grateful to Bruce Main-Smith & Company Ltd who publish photo copies of various Bradbury Handbooks, sales catalogues and parts price lists. Oldham Local Studies Library and Archives who have kindly supplied various photographs and other material and Mike Wills of the Vintage Motor Cycle Club for additional information.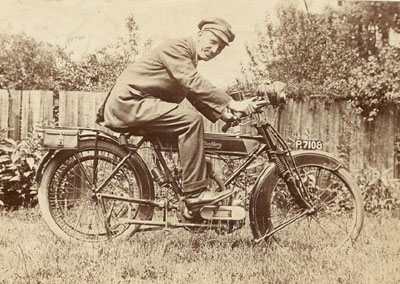 A smiling George E. Wiltshire on his 4 h.p. c1914 Bradbury. George was a Solicitors Clerk and Race Horse Stable Manager in Epson.
Photograph by kind permission of Mark Wiltshire.
Bradbury's earliest documented motor cycle production dates to January 1902 when a bicycle type machine fitted with a 1¾ h.p. Minerva Clip-on engine was produced. However in 1903 the Company started producing motor cycles under Birch's patent whereby the frame was brazed into the crank case a 2 h.p. and 2¾ h.p. versions were produced. In December of that year the Company was advertising the Peerless Motor Cycle.

In 1904 the Company was promoting a new 2½ h.p. motor cycle with Vertical Engine, special frame and new exhaust lifter. The following year the Peerless won the 1000 mile reliability trials. It featured a diamond frame built into the engine case, vertical engine made at Oldham, giving light weight with great strength, a new style of Contact Breaker, Large Tank, Long Bearings of Phosphor Bronze.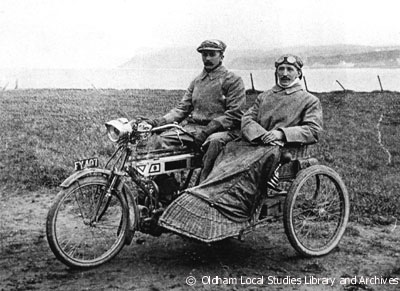 1911 - H. Gibson and J. Eastwood who completed the 390 mile Irish End to End journey, in 14 hours 9 ½ minutes.
Between 1904 and 1907 there was a general slump in the British motor cycle industry but in 1909 the New Bradbury 3½ h.p. motor cycle, priced at £46, was being advertised as 'the finest hill climber (power for power) ever made' and by 1910 Bradbury Motor Cycles had been awarded more than 300 First prizes including 18 Gold Medals.

Bradbury motor cycles took part in and won many races, these were not the circuit races we have today, but hill climbs or endurance events over rough ground. Many of the machines used had side cars and it has to be remembered the motor car was still very much in its infancy and it was the motor cycle and side car that was the affordable and versatile form of transport.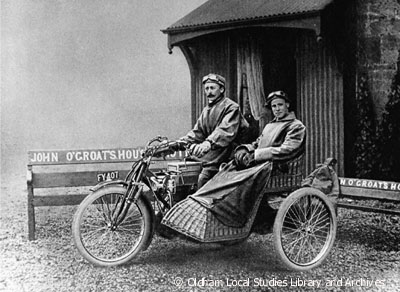 1912 H. Gibson and G. Wray who completed the 886 mile John o' Groats to Lands End journey in 38 hours 47 minutes reducing the previous record for a Motor Cycle and Side-car by 2 hours.
In 1913 a Bradbury motor cycle won the Transvaal Speed Championship - Roodepoort to Wipootjie, repeating the success of the previous year. Also in 1913 Bradbury motor cycles participated in the Australian Great Road Race - Sydney to Melbourne, the Transvaal Speed Championship, London to Lands End Trial, The Great French Reliability Trial - Paris to Nice, South African Tourist Trophy Race - Johannesburg to Durban (completed by A. W. McKeag in under 15 hours) and the South African Continental Trophy Competition at Randfontein, the London to Edinburgh Trial, Irish End to End Trial, Scottish Six Day Trial, Calgary M.C. (Canada) - Championship of Alberta as well as many other local events.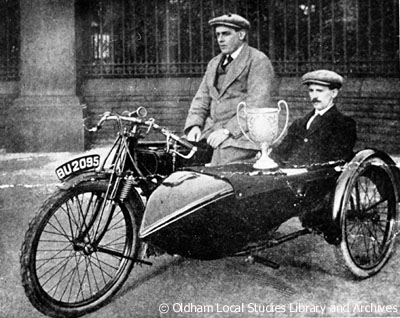 Percy Platt winner of the Bradbury Cup on a 6 h.p. Sports Model. (P. Platt was Bradbury's Oldham Motor Cycle and Cycle Agent with premises at 129 Union Street.)
Disaster struck during the 1914 six day trial based in Sheffield. The chassis on the Bradbury 6 h.p. Twin Cylinder V motor cycle and side-car broke and a detour was made to the factory for a repair. The organisers took a dim view of this and it ultimately led to Bradbury being excluded from the War Department Trials. However the Company did supply H.M. Naval Authorities with a consignment of Bradbury 4 h.p. Motor Cycles fitted with 3-speed Counter shaft Gear.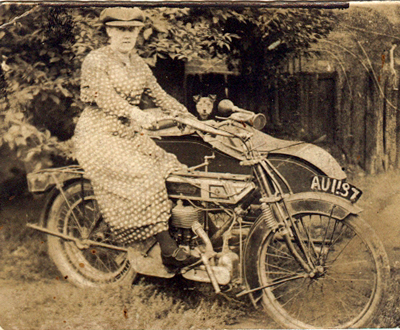 Lady & a dog on a Bradbury Motor cycle & side car
Photograph supplied by John Dixon.