All material (except where otherwise indicated) copyright David G. Best 2002 - 2009
All Rights Reserved.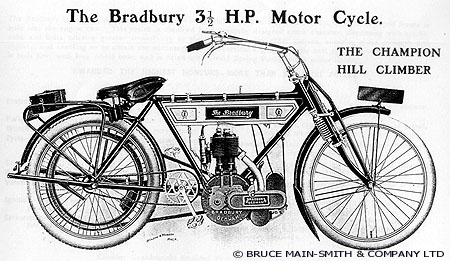 Illustrated above the 1910 Model
The Range of Bradbury Motor Cycles 1909 - 1924
The main stay of the Bradbury motor cycle range was the 3½ h.p. single cylinder machine introduced in 1909. In 1910 the Company announced that it had made considerable improvements in detail, finish and fittings to the 1909 Model and in 1911 the Company produced two versions - the Standard Model and the Speed Model.
The only differences between the 1911 3 ½ h.p. Standard Model and that of the previous year were both wheels were fitted with Dunlop Rubber studded non skid tyres and the saddle was change to Brooks' B 104/4 padded.

In 1912 the range included the Standard and Speed models but three new models were added:
3½ h.p. machine, fitted with free engine hub.
3½ h.p. fitted with two speed gear belt drive.
3½ h.p. two speed chain drive.
In addition to the Standard side car two other types were added, a Special Model-de-Luxe and a Commercial carrier van. The Standard and Model-de-Luxe side cars were both had bodies made of wicker.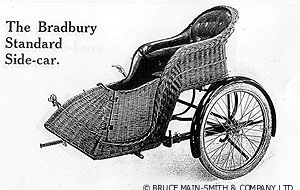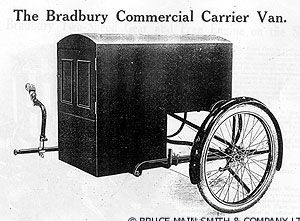 For the 1914 Season the whole range seems to have been revamped, the 3½ h.p. single cylinder engine was uprated to 4 h.p.
A new 3½ h.p. (500cc) three speed twin cylinder machine was introduced (shown right). The cylinders were horizontally opposed and a kick starter was fitted as standard.
Top of the range was a new 6 h.p. Three Speed Twin Cylinder V-Type.
A range of seven different Side-cars were available, from the basic Tradesman's Carrier at £12 to the Model-de-Luxe Coach built at £16.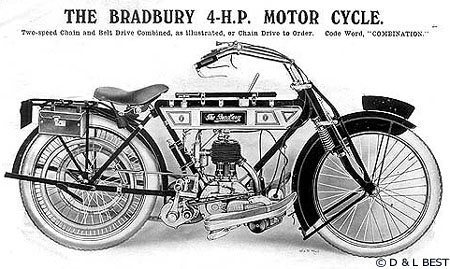 The four versions of the 4 h.p. (554 cc) machine were listed as:
4 h.p. Standard Model.
4 h.p. Model with 2-speed Gear, Free Engine.
4 h.p. Model with 2-speed Gear Chain and Belt Drive combined, or Chain Drive to Order
4 h.p. Model with 3-speed Counter shaft Gear Chain Drive.

Prices ranged from £48 to the top of the range at £59 which was fitted with Sturmey-Archer or Armstrong Mark IV three speed gear.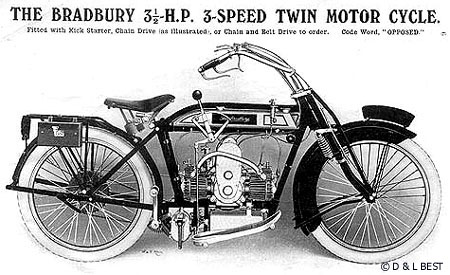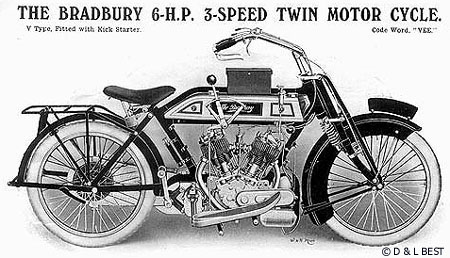 The 6 h.p. (750 cc) was fitted with a V type engine the cylinders being set at a 50º angle to each other and slightly offset.
The 1915 range of motor cycles remained the same as the previous year although some minor modifications were made including the use of steel forging's instead of malleable castings wherever possible.
There was a range of styles of side car, three of which now used cane instead of wicker. There were also two coach built side cars made from three-ply-timber which could be supplied painted in French grey, dark green, or chocolate. Upholstered in leather cloth they came complete with waterproof storm apron but a wind screen was extra!
After World War One the 3½ h.p. twin cylinder machine was dropped and the range of 4 h.p Motor cycles reduced with only the 4 h.p. (554 cc) single cylinder with Three Speed Counter shaft Gear, Cork Clutch and Kick Starter surviving. Still available was the 6 h.p. (750 cc) 3-Speed Twin and a new 2¾ h.p. (350 cc) single cylinder machine was developed. The range of side cars was reduced to two types the Best Quality - available in Mauve, Black or Khaki lined to match, or the Second Quality - available in Black or Dark Green.

Illustrated left the 1921 Model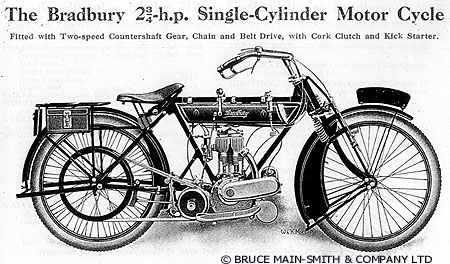 For the 1922 Season the machines received a face-lift to give a more modern image, this included a redesigned frame and fuel tank.
The 2¾ h.p. machine was available as either a two speed or as the Sportsman's lightweight model fitted with a 3 speed gearbox.
The 4 h.p. single and 6 h.p. twin machines were retained.
A new 3 speed 8 h.p. (996cc) V- type twin cylinder machine was introduced which was available with a side car.
The company offered a range of three side cars Tourist, Deluxe and Popular Models.

Illustrated right the 1922 Model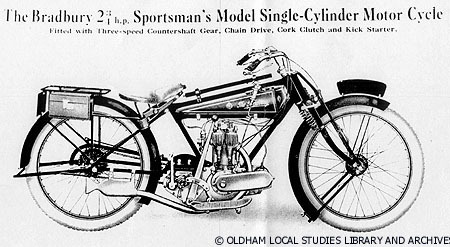 On 11th October 1922 no less than four British and World records were established at the Brooklands Motor Course by Mr R. E. Dicker on a 6 h.p. Bradbury sports model.
Less than 18 months later in spring of 1924 the last Bradbury Motor Cycle left the factory.

Illustrated left the 1922 Model